"It's been so long!" and "Doesn't it feel good to be outside?" could be heard up and down 57th Street Saturday and Sunday afternoons as neighborhood residents, artists and visitors from across the city perused more than 100 booths of jewelry, paintings, sculptures and more.
These visitors were drawn out of their Covid-induced isolation to celebrate the 57th Street Art Fair's 75th anniversary and first in-person show since 2019.
The first 57th Street Art Fair was established in 1948 by silversmith Mary Louise Wormer. According to the fair's website, Wormer's "studio lacked the space needed for the event, so she decided to take advantage of the local streets, stringing wires from trees and along fences of 57th Street where the artists could hang their works."
At the first fair, 51 artists, many of whom were students at the School of the Art Institute and the Illinois Institute of Technology Institute of Design, displayed paintings, ceramics, jewelry and glasswork.
In 1963 the fair turned to a jury system to select the artists, because "demand from artists for space exceeded the available exhibition space." This change was part of the reason for the founding of the Hyde Park Community Art Fair, which has occurred alongside the 57th Street Art Fair, at Bixler Playlot Park,  since 1968. Together the two fairs draw thousands to Hyde Park on the first full weekend of June every year.
"We are still in that Covid up-down period," said art fair committee member Mary Anton. She added that this year the fair featured roughly 132 artists, compared to a 2019 turnout of about 160. "(But) we have long-timers (artists) here. You can go out and find people who are here for their 10th year, their 20th year."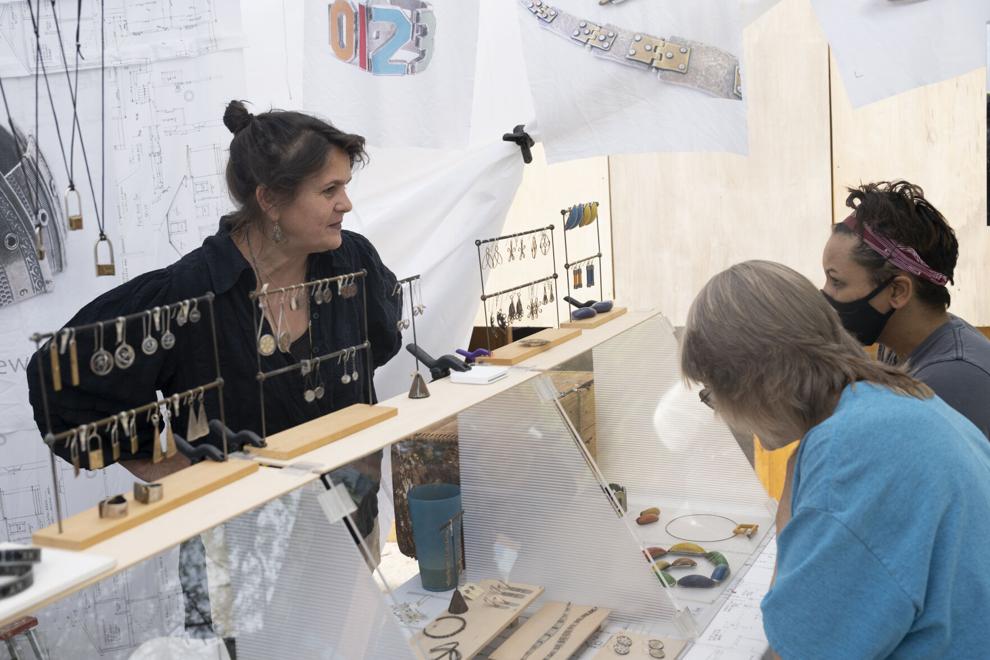 Connie Verrusio, a New York resident and artist who has been exhibiting her jewelry at the fair for years, grew up in Hyde Park.
 "Originally I sold lemonade here. Then the next year, I sold cookies," said Verrusio, looking out from her booth. "The year after that, I was already making jewelry, which I couldn't wear because my parents wouldn't let me pierce my ears, so I went illegally south of 56th Street to Mr. Boyajian's (booth)."
Boyajian had a store — Boyajian's Bazaar — on 53rd Street at the time.
"He used to set up a big table, so I set up nearby and I sold my jewelry. And I made lots of money, and I fell in love, and here I am, 40 years later, I am back." Verrusio added that she loves coming back and doing the art fair because it's her annual way of returning to Hyde Park.
Hyde Park resident Kirsten Esterly and her daughter Isabel were doing some "just for fun" shopping at Verrusio's booth. 
"My husband is (Verrusio's) younger brother's good friend," said Esterly. "They all grew up together in Hyde Park. I think Connie (Verrusio) and my husband went to Lab School together and graduated at the same time. So you know, it's a Hyde Park thing."
In the past, the fair coincided with alumni weekend at the University of Chicago; this year it coincided with convocation. 
"We weren't certain what was going to happen this year," said Anton, referencing the change. "We don't really keep attendance. We just sort of look at the streets and how full they are. 
"What we sort of go by is, 'Are the artists happy?' And they are for the most part." 
The 57th Street Art Fair takes place the first full weekend of June of every year and runs in conjunction with the Hyde Park Community Art Fair.